Unprotect excel sheet online. How to protect and unprotect Excel sheet with or without Password 2018-07-21
Unprotect excel sheet online
Rating: 6,1/10

766

reviews
How to Unprotect Excel WorkSheet with or without Password
Conclusion: The above are two free ways to unprotect Excel sheet without a password. You can apply permissions via a template that is used by your organization, or you can add permissions by clicking Restrict Access. For that reason, you want to be familiar with how locking and unlocking cells operates in the program. If you want to protect your Excel file both from modifying and opening, type the passwords in the Password to open and Password to modify boxes. But what if you forgot your password, or perhaps one of your associates lost their password on a workbook you are working on together? You do not need to remember the fake password or enter it anywhere to verify. The Locked option should be checked by default.
Next
VBA Code to Unlock a Locked Excel Sheet: 4 Steps

Way 2: Unprotect excel sheet password with Excel Password Recovery Software is designed for Excel users to recover excel sheet password easily. For a comprehensive understanding of this tool, you can take. Have you followed the steps outlined above, but are still having trouble restoring full access to your worksheet? Select and upload your password-protected document. Always a lot of screaming, crying, and throwing things when it came to passwords. How to unprotect a password protected worksheet.
Next
Add or remove protection in your document, workbook, or presentation
For Each sht In ActiveWorkbook. This is opening the two other workbooks: Workbooks. Simple enough if you were the one to create it and you know what it is. Note: If you have no password, suggest choosing Dictionary or smart type. In other words, if someone really wants to get access to a protected sheet, they will. One would hope that in a corporate environment, they'd be against storing passwords in a spreadsheet, but I digress. Preferably with some sort of authentication, but if need be I'll settle for hoping most users don't know how to unprotect.
Next
Excel Password Remover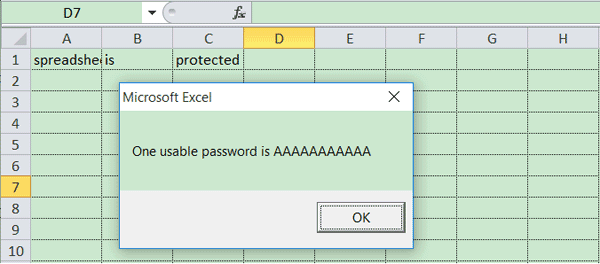 It also explains how to unlock Excel spreadsheet without password if you forgot or misplaced it. How to protect a workbook in Excel Apart from protecting the sheet contents, you may also want lock the entire workbook to prevent users from adding, moving, renaming or deleting worksheets, and viewing hidden sheets. If you leave only these two options selected, the users of your sheet, including yourself, will be able only to select cells both locked and unlocked. An alert style box will appear with a usable code. Opening multiple files in any version does not combine them into a single file.
Next
How to Unprotect an Excel Sheet
Be sure to remember the password or store it in a safe location because you will need it later to unprotect the sheet. It means the Excel sheet is protected and you need to unprotect it by click on the Unprotect Sheet button in the Changes group under the Review tab. It's easy to unprotect the sheets with a macro, like this one. Step 1: Change the Excel file name extension from. Insert the code below in the general declarations page you have opened. RunAutoMacros xlAutoOpen The first question would be is the lib. Then the Macro will return you to the worksheet you want to unprotect.
Next
Unprotect Excel Sheet/Workbook/Spreadsheet/Worksheet without Password
Did you use a similar format to above or another method? However, users will be able to insert a chart in an existing worksheet. The recent versions of Excel 2013 and 2016 use more sophisticated methods of sheet protection, but they are also vulnerable and can be unlocked without knowing a password. However, if you do not enter a password, then anybody will be able to unlock your workbook with a button click. Most password recovery programs will keep your computer busy for long hours, days, or even months. However in some unknown way my workbook structure has become protected meaning I can't add a new worksheet etc.
Next
How to Unprotect Excel WorkSheet with or without Password
Ultimately, when dealing with options such as these, it can be helpful to have a thorough understanding of the Microsoft Office Suite in general. You can also require other users to enter a password before editing these areas, or you can limit the editing to certain users. It should show the option when you run Macro. You should use this power wisely and responsibly only to unlock your own worksheets. Or, click the Protect Sheet button on the Review tab, in the Changes group.
Next
Unprotect an Excel spreadsheet if you have lost your password
You can modify the sheet without a password. When the macro starts, it prompts you for a password. You'll be prompted to create a password, then to confirm it. If the worksheet was not protected with password, clicking the Unprotect Sheet button is all it takes to unlock the sheet. Tips: You can use this power way only to unprotect or unlock your own worksheets. This sounds very simple and is very simple but most people do not even consider this option due to its simplicity. But if you forgot your Excel worksheet password, take it easy, and continue with your reading ahead.
Next
Unprotect Excel Spreadsheets and Workbooks Easily
Full version is recommended if you are sure to successfully unprotect your excel sheet in few seconds. The recent versions of Excel 2013 and 2016 use more sophisticated methods of sheet protection, but they are also vulnerable and can be unlocked without knowing a password. If you had password protected your Excel file at once with an intention to secure the inside spreadsheets, you have surely done the right thing to protect it from trespassers. If you click Edit Anyway, the document will no longer be marked as final. So what do you do if you have lost the password to unprotect an excel workbook or worksheet? Be sure to save the file after removing the protection to ensure the sheet is now open for all users.
Next
Unprotect Excel
This is how you can protect an Excel sheet and lock the entire workbook from changing or opening. The must be accepted to unlock the Excel spreadsheet. Step 3: To choose password attack type and make detail settings for it. If you wish to make a copy that you can also edit in Excel, simply export the spreadsheet into an. Click Edit Anyway and confirm the dialog box that says that editing will remove the signatures from the document. Solution: Use a password that meets or exceeds the minimum-length stated on the message.
Next